Course details
【Celebration 6 Great Benefit】 Seats only with reservation OK! Donation of paint with message and donated handmade photo frame etc!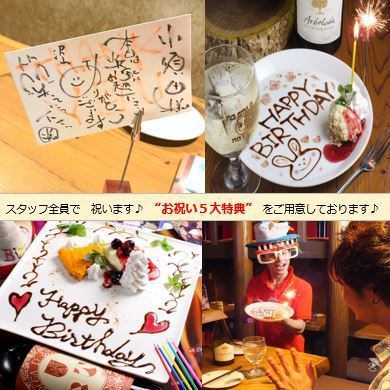 Available days for reservation

Monday - Sunday - Public holidays - Holidays
【Birthday · Anniversary · Wedding Anniversary · Welcome Party · Farewell Party】 All coupons using the coupon · Book only for seats, celebrate with inquiries Desert plate and handmade memorial photo with commemorative photo "Celebrating 6 Great Benefits" ♪ ♪ ※ Please reserve in advance before you visit! Please do not hesitate to contact us ♪
Course menu
Even reservation for seats OK! Even that day OK!
Design featuring message with message and handmade photo frame etc. "Festive 6 great privileges"
~ 6 Great Benefits Details ~
【1】 Surprise dessert plate
→ We will prepare as much as possible if there is hope in the message content! I will draw with my heart !!
Let's make only one original message plate "together" in the world !!
【2】 Send your favorite music! (If you like it will sing !!)
→ For example if you used it at our shop on a wedding anniversary.
That song that was flowing when I walked on Virgin Road.
For example if you used it at our farewell party.
The songs of youth calling the impressive storm and important memories of customers and guests only memorable songs,
Let's sink with exquisite timing! Let's consider the scenario where guests will be pleased in advance ☆
【3】 Commemorative photo
→ There are pretty well established! Camera work ☆
I will do my utmost to let you shoot "cute" "cool"
【4】 Homemade photo frame available
→ Form the precious time that will remain in memories of the whole life.
Staff will have thoughtfully prepared.
【5】 Welcome post card
→ If there is hope, we reproduce as much as possible!
Example: AIUEO composition (in case of guest "Tanaka-sama")
"Ta": fun
"Na": friends
"Ka": the best companion who talked
Thank you for everything.You can also create original postcards etc.
【6】 "Complete private room" ♪ in every special space ♪ "
→ Welcome party, farewell party, birthday, anniversary, follower · · ·
For every celebration, please use the complete private room with our stylish barrel table western style!
We are preparing decorations and goods according to the purpose ♪
※ There is no reason not to use absolutely everything "6 big benefits".
Customizable according to customer's purpose!
※ We may hear what kind of celebration you want beforehand if necessary.
We appreciate your cooperation in order to be a nice banquet.
Please spend an important time at the fire house Kokubunji store !!
Coupons that can be used with this course
2018/11/22 update